How to Extract Iron From Limonite

Shirley

Feb 15, 2022

1320
Warm Tip:
If you want to know more details about equipment, solutions, etc, please click the button below for free consultation, or leave your requirements!

Limonite is a typical intractable iron ore, which has the characteristics of easy mudding and poor separation index. Common limonite beneficiation methods mainly include gravity separation, magnetic separation, flotation and combined process.
Generally, we adopt gravity separation to process coarse-grained limonite ore. In production, most limonite processing plants will use the washing-gravity separation process flow to separate limonite and martite. First step, we use the trommel screen washer, chute washer and scrubbing machine to wash the ore, then we use a heavy medium and jig machine and other gravity separation equipment for separation.
The difference in iron content causes the difference in magnetism. Generally, strong magnetic separation is used to separate limonite ore, but this method is not suitable for recovering fine-grained limonite ore (-20um iron minerals).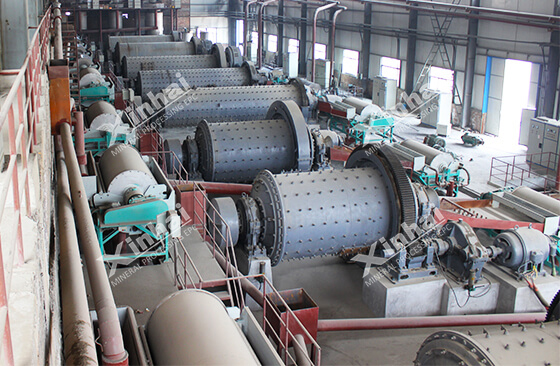 Iron processing plant in China
The single flotation method has a better recovery effect on fine-grained iron minerals, but because the limonite ore is easy to mud, which seriously affects the flotation effect, it is possible to consider desliming or strengthening the dispersion of sludge before flotation.
In production, the flotation process of limonite can adopt positive flotation or reverse flotation. Research and practice show that reverse flotation is more suitable for the quality improvement and impurity reduction of limonite ore. In addition, due to the loose crystallization of limonite particles and large specific surface area, it is easy to absorb and consume a large number of reagents during the flotation process. Therefore, the limonite beneficiation should adopt flotation process of multi-stage dosing and multi-stage separation. The closed-circuit flotation process formed by the return of ore will reduce the separating index, while the centralized return of the middle ore has a smaller impact on the separating index than the sequential return of the middle ore.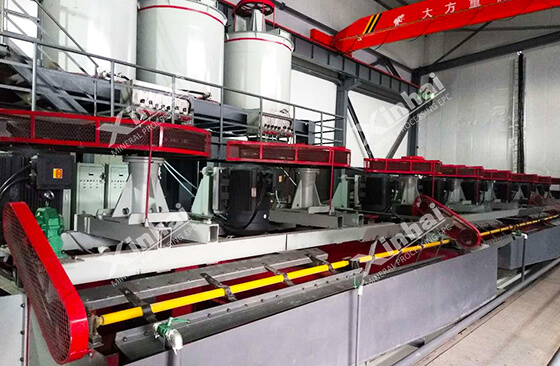 Iron processing plant in South Africa
(1) Gravity Separation-Strong Magnetic Separation Process
After fine crushing or grinding, limonite ore is washed, screened, classified and deslimed. The coarse-grained particles adopt gravity separation to obtain the concentrate, and the intermediate-grain particles adopt a roller magnetic separator, and the fine-grained particles and slurry adopt a high-gradient magnetic separator.
In order to improve the recovery rate of iron ore, we often regrind and re-separate middling ore in the gravity separation process, which can significantly increase the grade of the iron concentrate. At the same time, a higher recovery rate can be obtained due to the recovery of fine-grained iron minerals and slurry.
(2) Selective Flocculation Flotation Process
When the grinding fineness reaches a certain value, sodium carbonate and water glass are added in the grinding process to disperse the slurry well and make limonite flocculate selectively. However, sometimes the single flocculation method fails to remove a large number of coarse-grained gangue minerals and is still hard to improve the grade of limonite concentrate, so the flotation method can be used on the basis of selective flocculation to obtain a better separation index.

(3) Flocculation-Strong Magnetic Separation Process
For low-grade, fine-grained limonite ore, fine grinding is necessary to help obtain higher-grade iron ore; but at the same time, sludge will occur, resulting in a lower recovery rate. In this case, flocculation-strong magnetic separation can be used.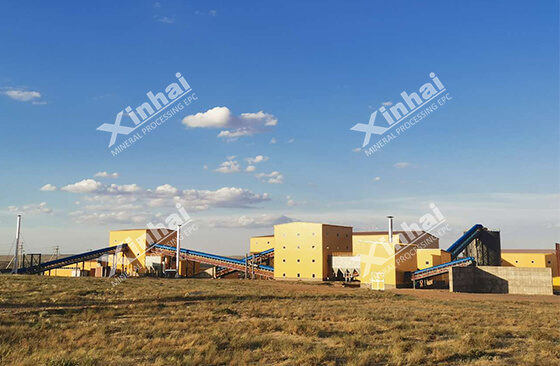 Limonite processing plant in Mongolia
The above are 3 methods for processing limonite. Each beneficiation plant should tailor the processing solution according to the actual situation. If you have other questions, you can leave your message or contact the online service, we'll contact you soon.