Tungsten Beneficiation Process

Laura

Jul 31, 2021

1083
Warm Tip:
If you want to know more details about equipment, solutions, etc, please click the button below for free consultation, or leave your requirements!

(Tungsten and other ore are displayed in the beneficiation laboratory)
Tungsten minerals can be divided into wolframite group, scheelite group, tungsten-like minerals and other uncommon tungsten minerals, of which only wolframite and scheelite have exploitation value. Below we will introduce the beneficiation process of wolframite and scheelite. Let's start it!
Wolframite is mostly quartz vein type, which is characterized by low grade of raw ore and high dilution rate of ore mining. However, its mineral composition is relatively simple compared to scheelite, with coarser intercalation particle size, so it is easier to concentrate. Generally, we will choose the combined mineral processing method based on gravity separation. Let's understand the process into four steps, including rough separation, gravity separation, concentration, and fine mud separation.
1) Rough separation stage
Pre-enriching and discarding waste to obtain qualified ore. Generally, we will pre-enrich the crushed ore, and discard the waste rock by hand selection to obtain qualified ore. Depending on the nature of the wolframite ore, some concentrators can use forehand or backhand selection, and some concentrators need to adopt a process that combines forehand and backhand selection.
2) Gravity separation stage
Gravity separation and discarding tailings to obtain coarse concentrate, and the principle flow is generally one to two-stage of grinding, three-stage jigging, four to five-stage shaking tables and concentrated treatment of fine mud to obtain coarse concentrate and discard a large amount of tailings. The tailings after the medium-grain jigging enter the rod mill for regrind, and the grinded product returns to the double-layer vibrating screen, forming a closed circulation.
3) Concentration stage
Rough concentrate will be in the concentrate process and comprehensively recover to obtain the final concentrate. This stage mainly adopts the combined process flow of gravity separation, magnetic separation, flotation, table floatation and other beneficiation methods. Among them, the table floatation method is an important separation method for wolframite beneficiation, which refers to the method of simultaneous reselection and flotation on the same equipment (shaking table).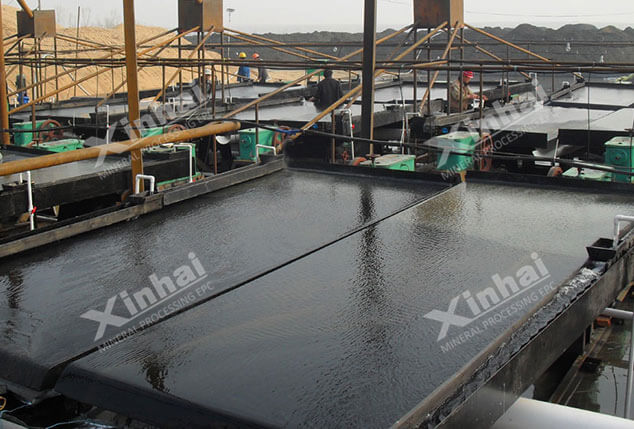 (A shaking table is working in a wolframite processing plant)
4) Fine mud sorting stage
Generally, gravity separation is the majority, and flotation and magnetic separation are also possible. The specific selection process is still related to the composition of fine mud and other properties.
02

Scheelite beneficiation process

Back
According to the characteristics of ore impregnation, generally will choose the method of gravity separation, combined gravity separation and flotation and single flotation method. Some scheelite concentrators also carry out pre-selection and waste disposal.
1) Main beneficiation process
Coarse-grained scheelite ore mainly adopts the combined process of gravity separation and flotation.
Fine-grained scheelite ore mainly adopts a single flotation method which is generally divided into two main stages: rough selection and selection. Among them, the roughing stage is mainly to maximize the recovery of scheelite, and the flotation flow can be carried out by the limestone flotation method and the sodium carbonate method. The beneficiation stage is the key to obtaining tungsten concentrate, which separates tungsten mineral gangue minerals to the greatest extent. Mainly use heated flotation method and room temperature flotation method.
2) Main mineral processing equipment
There are some main processing equipments, including jaw crusher, cone crusher, ball mill, vibrating screen, flotation cell, flotation column, spiral classifier, hydrocyclone.
According to the physical and chemical properties of tungsten ore, gravity separation and flotation methods are commonly used in tungsten ore beneficiation methods, and a combined method of gravity separation and flotation can also be used. The commonly used equipment for gravity separation includes jigs and shaking tables. Flotation cell and flotation column are commonly used flotation equipment. In the actual process of beneficiation, we should first conduct a beneficiation test, and then select a reasonable process flow to achieve the target and economic benefits under the ideal state based on the grade of tungsten ore, the size of the gangue, the composition of the gangue, the type of associated ore, etc.
If you have any questions about this article or need more details, please contact our online customer service or leave a message below, we'll contact you as soon as possible.