Zimbabwe Mining Investment Guide

Shirley

Dec 11, 2020

2735
Warm Tip:
If you want to know more details about equipment, solutions, etc, please click the button below for free consultation, or leave your requirements!

Mining is the major attraction of Zimbabwe with over 60 international tradable minerals. In recent years, many international capitals have begun to enter the Zimbabwe mining market. This article will introduce the mining investment environment in Zimbabwe. Let's drive in it.
Zimbabwe is located in the hinterland of Southeast Africa and is an inland plateau country. It covers an area of about 391,000 square kilometers, 80% of which is above 600 meters above sea level, of which a quarter is above 1,200 meters, with a population of more than 13 million.
The official language of Zimbabwe is English, as well as Shona and Ndebele. 58% of Zimbabwe's residents are Christian, 40% are primitive, 1% are Islamic, 0.1% are Hindu and 0.8% of others.
Table 1: Zimbabwe Fact Profile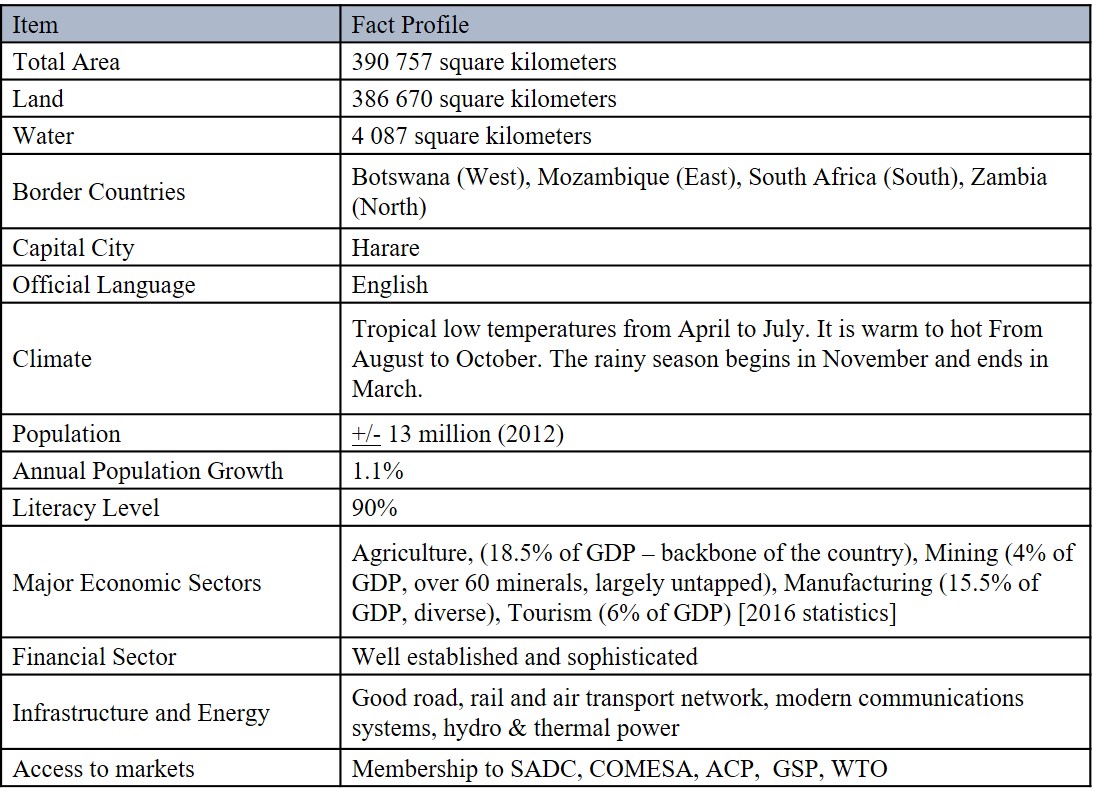 Source: Zimstats& Reserve Bank
Mining is the major attraction of Zimbabwe with over 60 international tradable minerals. Zimbabwe has the second highest deposits of platinum in the world. Major mineral belts include: The Great Dyke belt (PGMs, chrome, gold etc.), Coal fields include Beitbridge–Gokwe-Hwange belt and Marange diamond fields.
The following Table 2 presents the top 9 minerals in the country and their estimated resources.
Table 2: Top 9 Minerals in Zimbabwe and Their Estimated Resources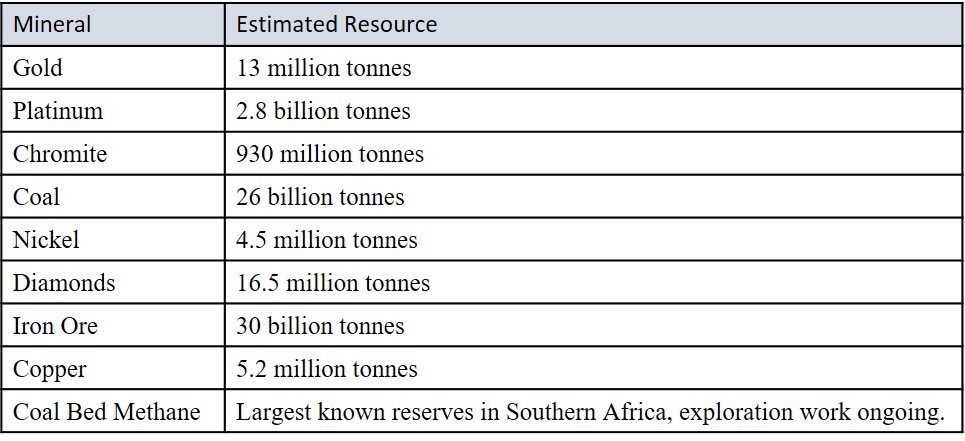 Source: Ministry of Mines and Mining Development

Foreign investors are free to invest in the mining value chain which include provision of finance and technical services, exploration, extraction, logistics, beneficiation and value addition.
Foreign investors are allowed to own 100% shareholding for mining operations in all other minerals except for platinum and diamonds which the foreign investor is expected to jointly own with the government on a 49/51% basis in favor of the Government.
The following are the current investment tax provisions offered by the Zimbabwe government;
Table 3: Current Tax Provisions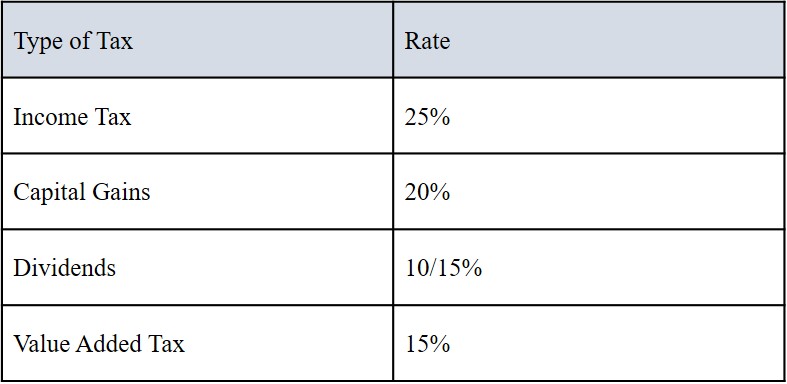 Taxation on Mining Royalties are payableper mineral as follows;

Table 4: Mining Royalties per Mineral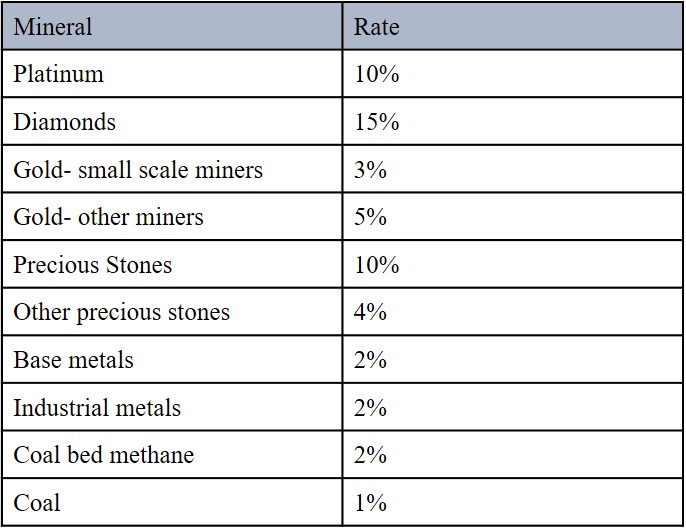 Zimbabwe guarantees investment security to all investors in line with international best practices. To this end, Zimbabwe is a signatory to a number of bi-lateral and international agreements which include the following Investment Protection Agreements:
Overseas Private Investments Corporation (OPIC) and Multilateral Investment Guarantee Agency (MIGA)

International convention on settlement of Disputes (ICSID)

New York Convention on the enforcement of arbitral awards

United Nations Convention on International Trade Law (UNCITRAL)
Furthermore, Zimbabwe has ratified Bi-lateral Investment Treaties (BITs) with Denmark, Germany, Netherlands, Swiss Federation, Yugoslavia, China, South Africa and Russia.
BITs awaiting ratification include those with Botswana, India, Iran, Kuwait, OPEC Fund, South Korea, Mozambique, Malaysia, Singapore, Thailand, Egypt, Austria, Croatia, Czech Republic, France, Indonesia, Italy, Jamaica, Kuwait, USA/OPIC, Portugal, UK and Mauritius are awaiting ratification.
Favorable Factors
1) Geological factors. Zimbabwe has a wide variety of mineral resources, good metallogenic geological conditions, low exploration and development of mineral resources, and good prospecting prospects. At the 2010 Annual Mining Conference held in Cape Town, South Africa, delegates to the conference paid great attention to the mining industry in Zimbabwe.
2) Government support. Nowadays, Zimbabwe has revised its mining policy once again, with the aim of creating a better mining environment that is conducive to sustainable development and better adapting to international practices. In 2011, Zimbabwe completed the revision of the Mining and Minerals Law and further improved the process of mining rights system.
Adverse Factors
1) Political risk. The political situation in Zimbabwe is quite unstable, and the country's future trend and foreign policy are not stable. All kinds of foreign economic laws and regulations are very random, and the frequency of revision is relatively high. This kind of instability and discontinuity of laws is unfavorable to foreign investment. Besides, the government departments have a long working cycle and are strict in foreign exchange and product export control. Some mineral products are not connected with the international market.
2) Resource risk. Most of the mineral deposits in Zimbabwe are poorly explored and the geological data are not detailed enough to make an accurate resource assessment of the minerals. So it needs to invest funds in mineral investigation in the early stage.
3) Economic factors. At present, Zimbabwe has severe inflation, unstable bank deposit and loan system, aging infrastructure and weak industrial foundation. Due to the shortage of domestic materials, most materials and large equipment needed by mining enterprises need to be imported, which greatly increases the operation cost and difficulty of the project. Mining companies' exploration rights in Zimbabwe are expensive and volatile to maintain.
1)There are many factors restricting the entry of foreign investors into Zimbabwe, including the slow economic development of Zimbabwe in recent years, weak infrastructure, unstable bank deposit and loan system, and long service cycle of government departments. The investment environment should be evaluated objectively.
2)After the establishment of the unity government of Zimbabwe, the government introduced relevant restrictive regulations to protect the interests of the local community, and full consideration should be given to investment
3)As the relevant departments of Zimbabwe have difficulties in implementing preferential policies, the expectation of preferential policies should be appropriately adjusted.
4)Since most of Zimbabwe's mining equipment is imported, investors can also explore opportunities in the field of mining equipment and services.
5)Before investing, investors should actively communicate with the national government and relevant functional departments to understand the government's new mining and economic policy direction.