How to Process Gold Ore? 4 Gold Processing Steps

Shirley

May 19, 2022

1528
Warm Tip:
If you want to know more details about equipment, solutions, etc, please click the button below for free consultation, or leave your requirements!

Gold ores have high mining value, and the separation process and equipment of gold ores with different properties are different. The gold processing line mainly includes four steps: crushing and screening, grinding and classification, separation and tailings processing.This article will teach you how to process gold ore?

The gold ore crushing process often uses jaw crusher for coarse crushing, standard cone crusher for medium crushing, and short head cone crusher and roll crusher for fine crushing. Most medium and small gold processing plants use two-stage closed-circuit crushing, and large-scale processing plants use three-stage closed-circuit crushing process. In order to improve the output and equipment utilization, the gold processing plants generally follow the principle of more crushing and less grinding to reduce the particle size of the ore to be ground. Commonly used equipment is as table 1:
Table1 : Common Used Gold Crushing and Screening Machines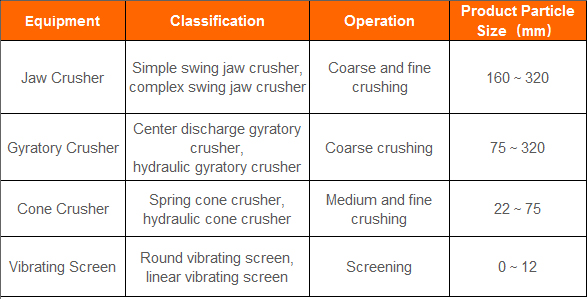 Gold crushing and screening machines:
Jaw crusher, cone crusher, round vibrating screen

The grinding operation of rock gold mine usually adopts one-stage or grid ball mill + overflow ball mill for two-stage grinding. The second stage grinding operation forms a closed loop with a spiral classifier or a hydrocyclone to ensure the grinding fineness. In general, only the dissociation of the sulfide ore monomer is required for gold encapsulated in sulfide minerals. However, for the gold that is continuous with the gangue, the grinding fineness needs to reach the dissociation of the gold monomer.
Gold grinding and classification machines:
Wet grid ball mill, wet overflow ball mill, hydrocyclone


Gold mine usually has two forms: placer gold and rock gold. The gold concentrate content of placer gold ore is high, and it mostly exists in the form of sand grains. Therefore, gravity separation method is often used in the separation of placer gold. After pretreatment desliming and washing, coarse gold particles can be obtained directly by gravity separation.
Rock gold mainly chooses the appropriate gold processing method according to its composition. Commonly used gold processing methods are mainly the gold cyanidation process, gold flotation process, and gold gravity separation process.

Method #1: Gold cyanidation process
The cyanidation process is one of the main methods of extracting gold from ore. The gold cyanidation process can be divided into agitation cyanidation and percolation cyanidation. The agitation cyanidation process is used to process tailings after gravity separation, amalgamation and flotation of gold-containing concentrates, or for all-sliming cyanidation. The percolation cyanidation is used for the treatment of flotation tailings and heap leaching of low-grade gold-bearing ores.
Gold cyanidation machines:
Desorption electrolysis system, zinc powder replacement device, leaching agitation tank

Method #2: Gold flotation process
Flotation is a widely used beneficiation method for rock gold ore. The flotation process can maximize gold enrichment into sulfide minerals, tailings can be directly discarded, and the beneficiation cost is low. The gold flotation process mainly includes four stages: dosing, agitation, aeration, and foam scraping.
Gold flotation process is suitable for processing gold bearing sulfide ore with fine particle size and good floatability. During flotation, sulfide ore is enriched into sulfide concentrate as a carrier for gold. Flotation can also be used to process polymetallic gold-bearing sulfide ores and carbonaceous ores.
Gold flotation machines:
XCF air inflation flotation cell, KYF air inflation flotation cell, SF mechanical agitation flotation cell


Method #3: Gold gravity separation process
Gravity separation is one of the commonly used methods for gold beneficiation. It mainly uses different specific gravity of materials and different sedimentation speeds in the medium to carry out separation. In placer gold deposits, gold mostly exists in the form of single native gold, which has a large density difference with gangue. It is effective and economical to adopt the gravity separation method.
In the beneficiation of gold ore, the common gravity separation methods mainly include jig separation, shaking table separation and chute separation.
Gold gravity separation machines:
Jig, shaking table, spiral chute

We have introduced these three types of gold extraction processes in detail before, and you can click directly for more process information.

At present, the commonly used gold tailings processing methods mainly include tailings reprocessing, (tailings dry stacking and tailings filling goaf.

Method #1: Tailings reprocessing
Although the content of useful components in gold tailings is relatively low, the use of advanced technology and reasonable process for tailings reprocessing can also recover the useful components in tailings to a large extent, so as to fully recycle resources, reduce the output of final tailings and relieve the pressure of tailings on the environment. We have previously covered how to extract gold from tailings.

Method #2: Tailings dry stacking
In the separation stage of gold ore, slurry often contains a lot of water, and too high water content of tailings is easy lead to tailings dam break accident. Therefore, in the gold processing plants, tailings concentration and dewatering is also the important links, and the tailings dry stacking system is mainly used.

Method #3: Tailings filling goaf
Gold tailings filling goaf is to refill the processed tailings waste back to the goaf area, which can protect the landform and reduce the cost of tailings dams. At present, the main methods of tailings filling goaf are full tailings cement filling technology and high water consolidation full tailings filling technology.
Gold tailings processing mcahines:
Thickener, filter, filter press

The above are 4 steps for gold processing. If you want to customize the gold beneficiation process or want to consult the price of the gold processing plant, you can contact the customer service or leave a message, and we will give you feedback as soon as possible.