A Comprehensive Look at Talc Ore Processing

Chileen Gao

Feb 24, 2023

278
Warm Tip:
If you want to know more details about equipment, solutions, etc, please click the button below for free consultation, or leave your requirements!

(flotation equipment in talc processing plant)
Talc is a clay mineral that can be used in many industries, such as paper, plastics, rubber, pharmaceuticals, cosmetics, etc. This article describes the ore properties, application areas, purification methods and mineral processing equipment of talc.
Talc is a layered silicate, a water-bearing magnesium silicate mineral. Naturally pure talc ore is rare, and most of it is associated with other mineral impurities, the common associated minerals are Chlorite, Serpentine, Magnesite, Tremolite, Dolomite, etc.

Talc is often white, light green, slightly pinkish, light greyish, the more impurities it contains the darker the colour, and even dark grey and black. The ore is often flaky, fibrous and dense, pearly or greasy, with a Mohs hardness of 1 and a density of 2.7 g/cm3, with a slippery feel.

Talc has an obvious thermal effect when heated, losing adsorbed water at 120 to 200°C, losing some of the structural water at 600°C until all the structural water is removed at 1050°C.

Electrical insulating properties 
Talc itself does not conduct electricity, when talc does not contain conductive minerals (such as iron ore, pyrite, magnetite, etc.), its insulating properties are good. Talc is used as a raw material to make talc porcelain, which has a high degree of insulating properties. When the temperature rises, the dielectric loss of the block of talc porcelain is much lower than that of ordinary electric porcelain and also much slower.
Heat resistance 
Talc is both heat-resistant and non-conductive, with a refractory degree of up to 1490-1510°C. Talc is calcined, its mechanical strength and hardness increased, but the shrinkage rate is very low, the expansion rate is also very small, is a high temperature resistant mineral materials.
Chemical stability 
Talc generally does not interact with strong acids and strong bases. Talc does not change chemically when mixed with other substances at temperatures up to 400°C.
Oil absorption and hiding power 
Talc has a very high absorption capacity for grease, pigments, pharmaceuticals and impurities in solution. Ultra-fine talc, due to its good dispersion and large surface area, can be coated on the surface of objects to cover a large area, forming a uniform fireproof, weather-resistant film.
Lubricity 
Talc is soft and slippery, with a coefficient of friction of less than 0.1 in the lubricating medium, making it an excellent lubricating material. The lubricating properties of talc increase as the amount of talc increases.
Hardness variability 
If the talc is gradually heated to 1100°C, about two hours later and then slowly cooled, its shape remains unchanged, but the hardness increases, mainly because the talc has been changed into a phase of oblique plagioclase.
Mechanical Processability 
Good mechanical processing properties. With talc crushed or powdered talc plus binder, using semi-dry pressing method, wet pressing method, extrusion method or plastic method for processing and forming, the product performance remains unchanged.
Because of its good electrical insulation, heat resistance, chemical stability, lubricity, oil absorption, covering power and mechanical processing properties, talc is widely used in paper, plastics, rubber, cables, ceramics, coatings, building materials and other industrial fields.
Talc is separated by the following methods.
Flotation Method 
Firstly, coarse and fine crushing of the raw ore is carried out using jaw crushers and cone crushers, which are screened in size using screening equipment.
Next, ball mills and spiral classifiers are used for classification.
Afterwards, a flotation process is used to select the concentrate and tailings.
Finally, the concentrate is concentrated, filtered and dried using a thickener and dryer to obtain the finished product.
Manual Sorting 
Manual sorting is the manual selection of talc and vein minerals according to their different slipperiness. Talc has good slipperiness and the higher the grade, the better the slipperiness, which is easily identified by hand. Most domestic talc mines use manual sorting to produce high grade talc blocks.
Electrostatic Separation 

Talc ore contains magnesite, magnetite, pyrite, tremolite and other minerals in addition to talc, with an embedded particle size of about 0.5 mm. In the electrostatic field talc is negatively charged, magnesite is positively charged, while magnetite and pyrite are good conductors, thus it is easy to separate the above minerals in the electric field.
Magnetic Separation 

Talc concentrates require a certain fineness in addition to a certain whiteness. Due to the presence of staining iron minerals in the ore, sometimes the above methods are not sufficient and magnetic separation is required to remove the iron-containing minerals. The use of wet magnetic separation can reduce the iron content of talc concentrate from 4% to 5% to less than 1%.
Photoelectric Separation 

Photoelectric picking is a method of sorting using differences in the optical properties of the surfaces of talc and impurity minerals. The photoelectric sorting machine consists of the following components: preparation mechanism (ore bin, feeder, belt conveyor), radiation source and detector (sensor), electronic control circuit, actuator, etc.
In addition, using the characteristic white fluorescence of talc under ultraviolet light, the photoelectric sorter can be used to pick out the purer talc. Generally, a Sotex 621 photoelectric sorter is used, such as the Cyprus Talc Company in the USA, which uses this method to enrich a poor ore with only 30% talc content to a talc content of 69%, and finally grind it to 200 mesh for flotation to obtain a cosmetic grade of 99% talc.
Selective crushing And Screening 

Taking advantage of the differences in selective crushing and shape of talc and veinstone minerals, the use of impact crushing and continuous screening using alternating rectangular and square screens has enabled the separation of most of the associated quartz and more than half of the carbonate minerals.
Jaw Crusher

The Jaw Crusher is a high capacity, high crushing ratio and high crushing efficiency crusher, mainly used for coarse crushing.
The Jaw Crusher is a deep cavity crusher with an optimised design for high crushing performance, high jaw speed and curved jaw plate design for high production capacity.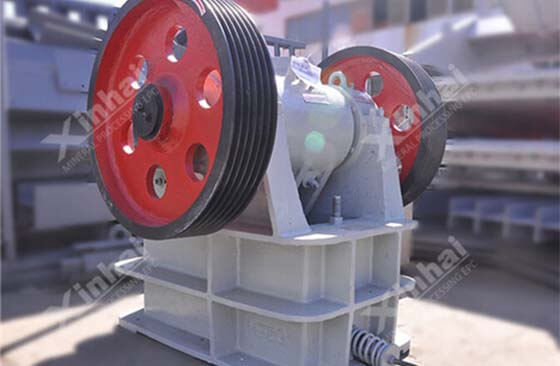 (jaw crusher for talc crushing)
Circular Vibrating Screen

Circular vibrating screen is mainly used for material size classification, but also can be used for dewatering, desliming, desmear, etc.. In mining, metallurgy, road construction, building materials, chemical industry, etc., are applied.
Xinhai circular vibrating screen adopts eccentric shaft plus eccentric block type vibrator, with smooth operation and high screening efficiency. In addition, wear-resistant rubber screen mesh is available, which can make the material stuck in the screen hole jump out and prevent the screen hole from blocking.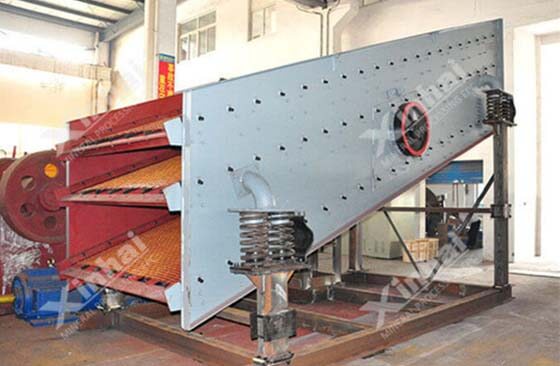 (circular vibrating screen for talc screening)
Wet Overflow Ball Mill

This is a new type of ball mill with a simple structure and relies on the self-flow discharge of the ore pulp, which is commonly used for grinding ores with fine fineness.
This ball mill has increased the slow speed transmission system, when the ball mill starts, the low speed slow speed transmission will run first, and the high speed main motor transmission system will run later, which not only saves energy consumption, but also reduces the impact on the ball mill equipment and the power grid system.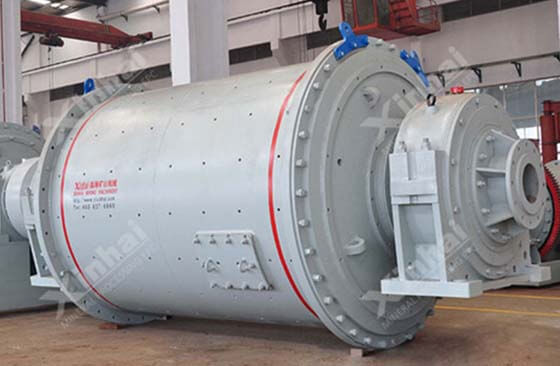 (wet overflow ball mill for talc grinding)
Spiral Classifier

This is a machine that classifies solid particles by means of the different settling speeds in the pulp. It has a sand return end with an automatic sand return lifting device, whereby the large scoop head configuration of the ball mill can be eliminated, resulting in smoother operation.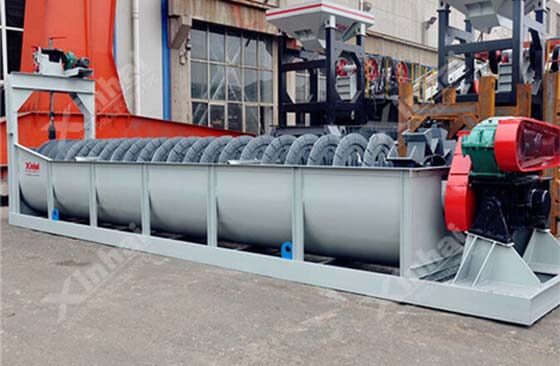 (spiral classifier for talc ore processing)
SF Type Flotation Machine

This is a self-priming, self-priming mineral flotation machine with backward inclined blades on both sides of the impeller to achieve double circulation of the pulp in the tank; forward inclined tank with small dead space and fast froth movement.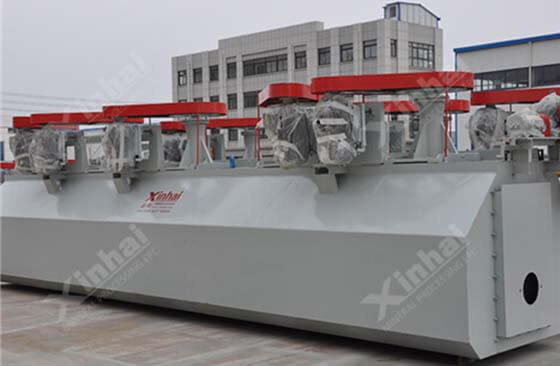 (flotation machine for talc dressing)
Thickener

This is a new type of independently developed high efficiency thickener, which has changed the traditional internal overflow weir to an external overflow weir design, increasing the settling area and making it less prone to clogging. In addition, after improvement, it has a large processing capacity, low overflow turbidity and high discharge concentration.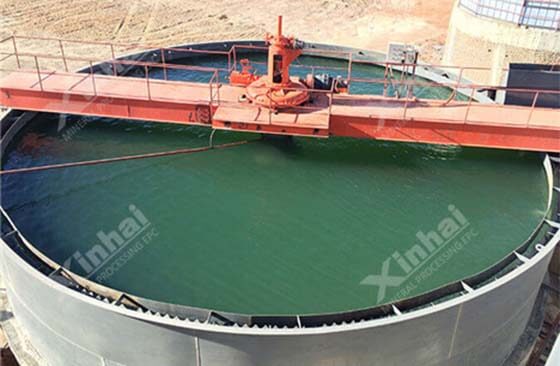 (high efficiency thickener for-talc concentration)
As talc is a soft and smooth non-metallic minerals, began to be used by people to carve artwork, and later after grinding and processing, can be used for paper, cable, ceramics, textiles, coatings, pharmaceuticals and other production sectors for low-grade ore, talc separation equipment flotation process can be used for its selection, which can be a comprehensive recovery of beneficial associated minerals, economic value is greater.Welcome to click the chat button for more information about talc ore processing.