A Comprehensive Guide to Lithium Processing Equipment

Shirley

Feb 27, 2023

1102
Warm Tip:
If you want to know more details about equipment, solutions, etc, please click the button below for free consultation, or leave your requirements!

In recent years, the new energy market has a bright future, and the demand for battery metals such as lithium and nickel has risen significantly. The development and utilization of lithium ore has become the focus of attention. The lithium ore beneficiation process includes crushing and screening, grinding and grading, sorting, concentrate dehydration and other stages. In this article, we will take you to understand the beneficiation equipment required for each stage of lithium ore beneficiation.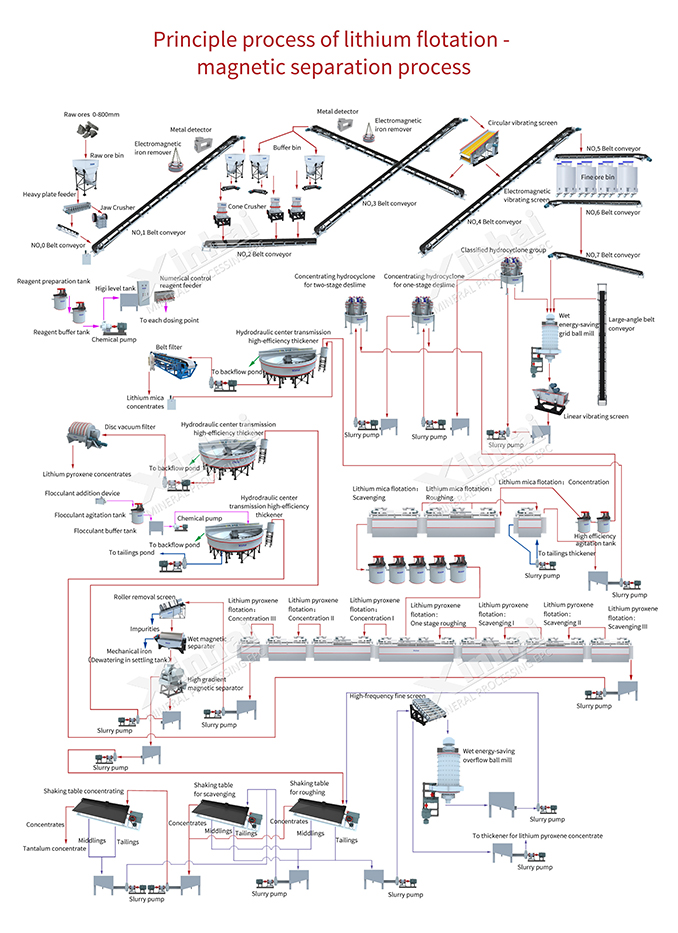 According to the processing principle of "more crushing and less grinding", a three-stage-one-closed-circuit crushing and screening process or a two-stage-one-closed-circuit crushing and screening process can be used in the crushing and screening stage of lithium ore. Which process to use specifically needs to refer to the particle size of the raw ore. Compared with two-stage and one-closed-circuit crushing and screening, three-stage and one-closed-circuit crushing and screening can solve the problem of coarse particle size and large particle size fluctuation of lithium ore, which can ensure the processing capacity of raw ore and improve lithium ore production indicators.
At this stage, jaw crushers and cone crushers are mostly used in crushing equipment, among which jaw crushers are used for coarse crushing of lithium ores, cone crushers are used for secondary and fine crushing of lithium ores, and screening equipment is mainly circular Shaker.
In the grinding and classifying stage of lithium ore, in order to ensure that lithium minerals are fully dissociated from gangue mineral monomers, a closed-circuit grinding and grading process can be adopted, and the first-stage grinding equipment can use wet grid ball mills, rod mills, etc. When secondary grinding is required, a wet overflow ball mill can be selected as the grinding equipment for this stage. Classification equipment can adopt graded hydrocyclone group.
According to the ore properties of different lithium ores, some lithium ores may need to be deslimed after the grinding stage. The use of desliming equipment can choose concentrated hydrocyclones, inclined plate thickeners, etc.
Since lithium ore usually has many different associated minerals, it is often necessary to consider the comprehensive recycling of lithium ore. And other processes to form a joint selection process.
1. Flotation stage
Ore-type lithium ores generally include spodumene, lepidolite, lithium feldspar, etc. Flotation is the main sorting process for these lithium ores, and its process flow varies according to the type of minerals. In this stage, it is often used Inflatable agitated flotation machines and mechanical agitated flotation machines are used as the main flotation equipment.
Air-stirred flotation machines can choose KYF flotation machines and XCF flotation machines, and mechanical agitation flotation machines can choose SF flotation machines, JJF flotation machines, BF flotation machines, etc. Among them, the XCF flotation machine can be combined with the KYF flotation machine to form a flotation unit, which can realize the horizontal configuration of the flotation unit without the use of foam pumps, and reduce the infrastructure cost required for the ladder configuration.
2. Gravity separation stage
For lithium ores containing tantalum and niobium minerals, the combined process of gravity separation + flotation is generally used for treatment, and gravity separation is used to recover tantalum and niobium minerals with a larger specific gravity. Gravity separation equipment that can be selected at this stage includes shaking tables, centrifugal concentrators, etc.
3. Magnetic separation stage
Magnetic separation generally appears in the lithium ore beneficiation process as a means to improve the quality of lithium concentrate. It mainly uses the magnetic difference between minerals to remove magnetic minerals in lithium concentrate to obtain lithium concentrate with low iron content. Since most of the magnetic minerals in lithium ore are weakly magnetic minerals, strong magnetic separators and high gradient magnetic separators are generally used as sorting equipment at this stage.
In order to obtain high-quality lithium concentrate, it is necessary to concentrate and dehydrate the lithium concentrate product after sorting. At this stage, a hydraulic central drive high-efficiency thickener can be selected for concentrate concentration. In order to further achieve the required water content, the concentrate needs to be sent to the dehydration operation through the slurry pump. The main equipment for the dehydration operation can choose a disc vacuum filter, a disc equipment such as vacuum filters.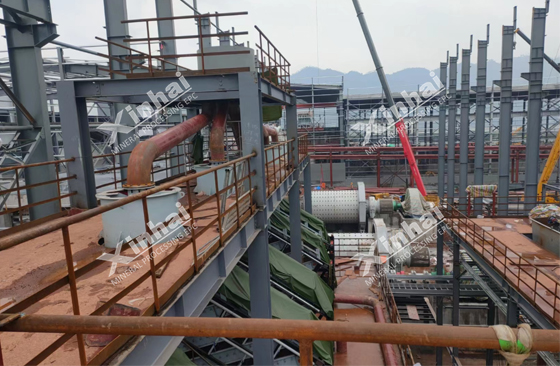 The above are the beneficiation equipment required in the lithium ore beneficiation process. In actual production, the selection of mineral processing equipment needs to be determined according to the specific mineral processing process and processing capacity. In order to avoid the waste of resources caused by inappropriate selection, it is recommended to conduct a mineral processing test before the construction of the mineral processing plant, and determine the mineral processing process and supporting mineral processing equipment through scientific and reasonable means.