Ultimate Guide: 6 Methods for Lithium Extraction

Shirley

May 26, 2022

1808
Warm Tip:
If you want to know more details about equipment, solutions, etc, please click the button below for free consultation, or leave your requirements!

As the main raw material for energy development, lithium ore is widely used in batteries, electronics, chemicals, materials, medical and other fields. In recent years, the demand for lithium ore resources has been increasing, and the technology of lithium extraction has also been developed rapidly.
Different lithium ores have different properties, and the content of lithium oxide and mineral composition in the minerals are different, so the extraction methods of lithium ore are also different. At present, the main lithium extraction methods include flotation method, magnetic separation method, gravity separation method, hand separation method, cracking method and combined beneficiation method.
Flotation is one of the main methods for separating lithium ore. Any lithium ore with industrial value can use the flotation method, especially the fine-grained disseminated lithium ore.
Lithium ore flotation is mainly affected by factors such as ore properties, grinding fineness, agitation operation, adjusting agent ratio and water hardness. For the lithium ore whose surface is not polluted, it is easy to float with oleic acid and soap agents, the optimal pH of flotation pulp is nearly neutral weak alkaline.
Commonly used lithium ore flotation equipment are XCF flotation machine, KYF flotation machine, JJF flotation machine, SF flotation machine and coarse particle flotation machine, etc., which can meet the needs of rough separation, scavenging and cleaning operations in various large, medium and small lithium ore extraction plants.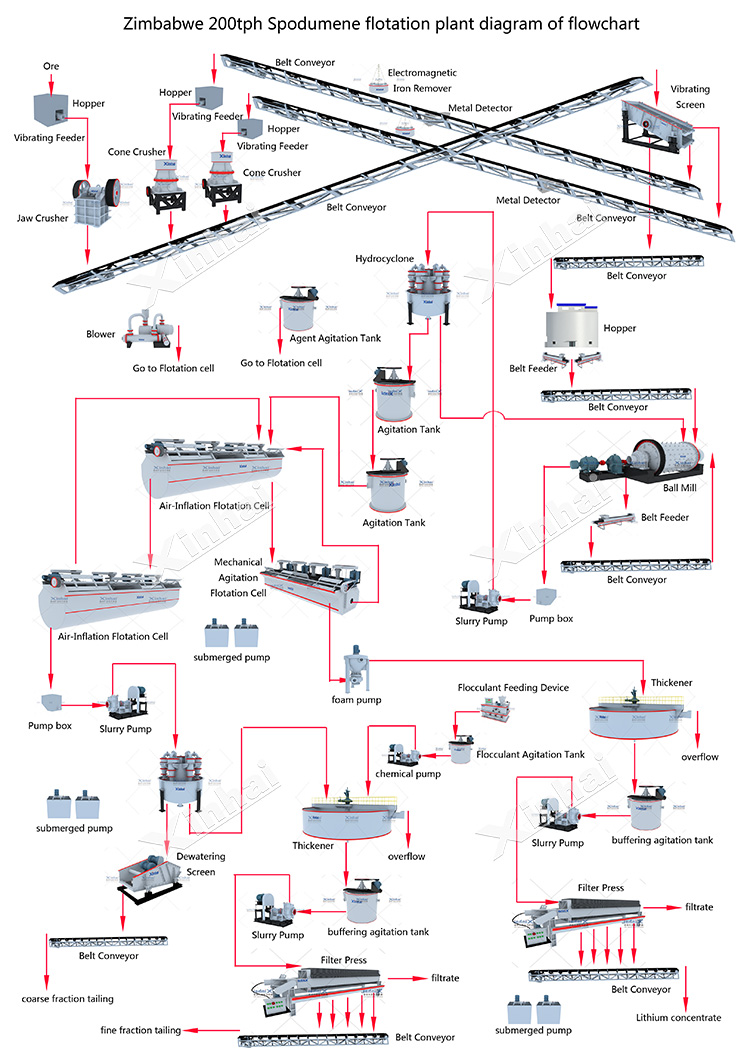 Magnetic separation of lithium ore is mainly used to remove iron-containing impurities in lithium concentrate. Generally, magnetite-bearing lithium ores are mainly lepidolite and spodumene, which have weak magnetic properties. Therefore, iron-containing minerals can be removed by strong magnetic separation technology to improve the product quality of spodumene. In the lithium processing plants, magnetic separation is usually combined with flotation and gravity separation to form a combined beneficiation process.
Commonly used equipment for lithium ore magnetic separation include permanent magnet drum magnetic separator, high gradient magnetic separator, eccentric layout rotation magnetic dry separator, etc., which can meet the magnetic separation of various wet and dry environments.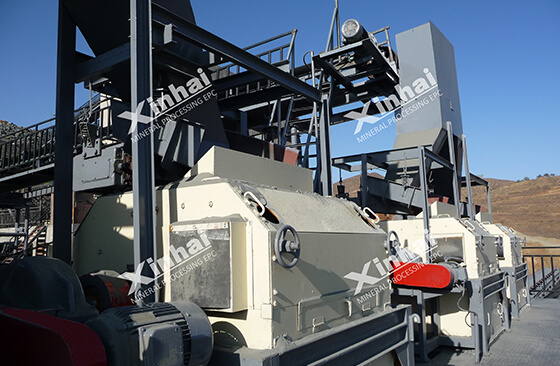 (Magnetic separator for lithium ore)
Gravity separation is based on the density difference between spodumene and gangue ore, and it is mostly used for the separation of spodumene with coarser particle size. Usually, when the density difference between spodumene and gangue (quartz, feldspar, biotite, etc.) is more than 0.2 ~ 0.5g/cm3, shaking table or jig separation can be used. When the density difference is less than 0.2~0.5g/cm3, the resuspension method can be used. The lithium minerals after washing and desliming are mixed with the heavy medium and fed into the dense medium cyclone at a pressure of 0.05-0.20Mpa for separation.
The equipment commonly used in lithium gravity separation includes shaking table, jig, dense medium cyclone, etc.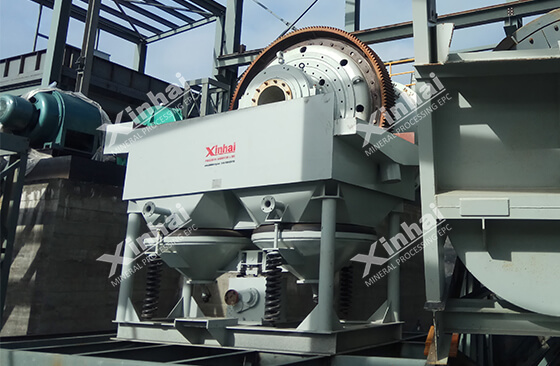 (Jig for lithium gravity separation)
Hand separation of lithium ore is a method used to separate raw ore containing more waste rock, which is mainly used as a pre-concentration operation in processing plants. In general, lithium ore is silvery white, and there are color differences with other impurities. Therefore, the surface property difference between lithium ore and gangue mineral can be used for separation to improve the selection grade of lithium ore.
There is no need for better sites and equipment during beneficiation, and it only needs to be carried out on the hand separation belt or on the hand separation operating table.
The lithium ore cracking method, also known as thermal crushing method, is separated by heating and cooling methods, and is suitable for processing spodumene containing non-albite, calcite and mica. Roasting at a certain high temperature converts lithium minerals from the original α-type to β-type lithium ore, while the gangue minerals remain unchanged, thereby obtaining lithium ore. The process is as follows: the mineral is crushed to 50~20mm and then screened. The ore larger than 0.3mm is roasted at 1000 ~ 1200℃ for 1 ~ 2h, and then it is cooled and then selectively grinded, classified and purified. Spodumene can be extracted from lithium ore less than 0.3mm by combined separation technology.
Commonly used equipment for lithium cracking process includes roasting equipment, ball mill, vibrating screen, classifier, etc.
The extraction of lithium minerals by the combined beneficiation method is mainly for the separation of poor and fine lithium minerals. When a single method fails to obtain qualified lithium concentrates, a combined method is required to obtain higher quality lithium concentrates. The main processes are: flotation-magnetic separation process, flotation-gravity separation-magnetic separation process, etc.
The above are the 6 common lithium ore extraction methods and commonly used lithium extraction equipment. In the actual lithium extraction plant, it is recommended to carry out a mineral processing test first, and customize suitable mineral processing methods and equipment according to the test results.
If you want to customize the lithium extraction process, you can contact customer service or leave a message, and we will give you feedback as soon as possible.