7 Methods of Phosphate Beneficiation

Chaya

Dec 28, 2021

573
Warm Tip:
If you want to know more details about equipment, solutions, etc, please click the button below for free consultation, or leave your requirements!

The most important use of phosphorus is to make fertilizer. About 82% of the world's phosphate rock is used to produce various phosphate fertilizers. As a non-renewable mineral resource, the sustainable development and utilization of phosphate rock is directly related to world food security and human survival and development. This article I will introduce 7 methods of phosphate beneficiation processes for you. Let's drive it.
Flotation has always been regarded as the most effective method in phosphate rock beneficiation. Phosphate flotation methods include positive flotation, reverse flotation, positive and reverse flotation, double-reverse flotation processes. For the phosphate rock with a very fine particle size, the hierarchical flotation process can be used.
The positive flotation is only applicable when the floatability of gangue minerals and collophane is quite different.

The reverse flotation process has a better separation effect on sedimentary calcium magnesia phosphate rock.

The positive-reverse flotation is mainly suitable for the mixed collophane ore with high silicate content.

The reverse-positive flotation is mainly suitable for the mixed collophosate with higher carbonate content.

The double reverse flotation is suitable for processing high silicon-magnesium mixed phosphorite.

The combined beneficiation processes are mainly gravity separation-flotation combination, magnetic separation-flotation combination, roasting-magnetic separation combination, roasting-magnetic flocculation combination and other processes.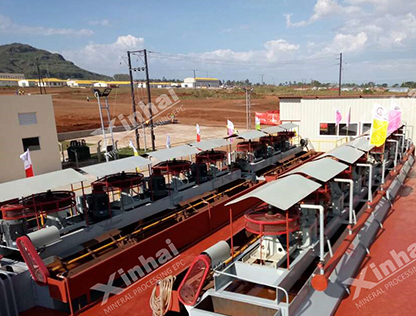 (Flotation machine in Uganda 720tpd phosphate processing plant)
This process is mainly used for weathered or muddy phosphate rock. The weathered phosphate rock is placed in water to scrub or strip to remove the surface mud and enrich the phosphate mineral. The enrichment ratio of this process is generally not large, which can only increase the P₂O₅ grade by 3 to 5 percentage points. Scrubbing sludge is a physical beneficiation method, its process is simple, it can be produced in the open air, and does not consume chemicals, so it will not cause pollution to the environment.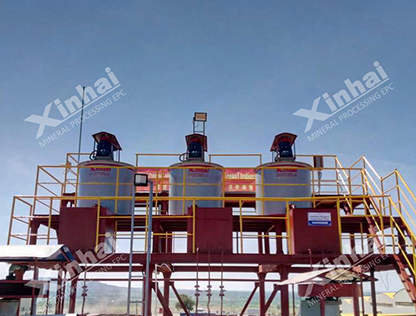 (Agitation tanks are used in desliming stage of the Uganda 720tpd phosphate processing plant)
The difference in specific gravity between minerals is the key to the separation of heavy medium. Heavy medium separation technology has broad development prospects due to its high separation efficiency and low environmental pollution. In the long run, this technology is expected to be used as a pre-separation operation to pre-exclude most of the gangue from low-grade phosphate rock, thereby improving the effect of subsequent separating operations.
This is a chemical beneficiation method, which is mainly used for carbonate-type phosphate rock with few silicate minerals. Carbonate minerals are used to liberate CO₂ under high temperature thermal decomposition, and then water is added to hydrate CaO and MgO into fine particles of Ca(OH)₂ and Mg(OH)₂. After the grading technology is used to remove the calcium and magnesium hydroxides, the phosphorus minerals are enriched. However, this method of beneficiation has not been popularized and applied due to high energy consumption, difficulty in processing the extracted lime milk, and in production control.
Chemical beneficiation is a beneficiation method that uses chemical methods to reduce the content of impurities and improve the purity of useful minerals. This method is mainly suitable for calcium phosphate rock with low carbonate content and extremely fine intercalation particle size and separation of impurities in flotation concentrates. The leaching agent can be ferric chloride, sulfuric acid or sulfur dioxide, among which sulfuric acid is the most widely used. With sulfuric acid leaching technology, the loss rate of phosphorus minerals is high, and the equipment requirements are high, and the processing cost is expensive.
Electric separation uses the different colors of phosphorus minerals and impurity minerals to identify them with photoelectric elements, and controls the compressed air jet to separate the phosphorus minerals from the impurity minerals. Electric separation is a dry operation, no waste water or environmental pollution, simple equipment structure, easy operation and maintenance, low production cost, and good sorting effect.
With the continuous exploitation of resources, phosphate ore resources are becoming poor, fine, miscellaneous. It is difficult to obtain high-quality concentrate products by using a single beneficiation process, and the combined beneficiation process can become a new way to solve this kind of phosphate ore beneficiation. Common processes include gravity separation-flotation combined process, magnetic separation-gravity separation-flotation combined process.
In addition to the above several phosphate ore beneficiation processes, there is also a magnetic cover method. But in general, flotation is the most effective and widely used beneficiation method in phosphate ore beneficiation.
The development of phosphate ore resources is developing in the direction of low-quality phosphate rock resources. The sustainable development of phosphorus resources can be comprehensively utilized on a large scale only through the enrichment of middle and low-grade phosphate ore.
The beneficiation of middle and low grade collophane is a big problem in beneficiation research. Flotation reagent is the key to the flotation of phosphate ore. Therefore, the development of new flotation reagents for high-efficiency phosphate ore is the focus of research on phosphate rock beneficiation.
If you want to know more about the beneficiation processes and equipment of phosphate rock, you can consult the online customer service or submit a message, we will contact you as soon as possible!