Guinea Mining Investment Guide

Shirley

Oct 24, 2022

494
Warm Tip:
If you want to know more details about equipment, solutions, etc, please click the button below for free consultation, or leave your requirements!

The Republic of Guinea (abbreviation: Guinea) is located in West Africa, bordering Côte d'Ivoire to the east, the Atlantic Ocean to the west, Liberia and Sierra Leone to the south, and Guinea-Bissau, Senegal and Mali to the north. It has a land area of 245,900 square kilometers and a population of 10.52 million. The official language of Guinea is French. The main tribal languages are Susu, Malinkai and Fula (also known as Pall).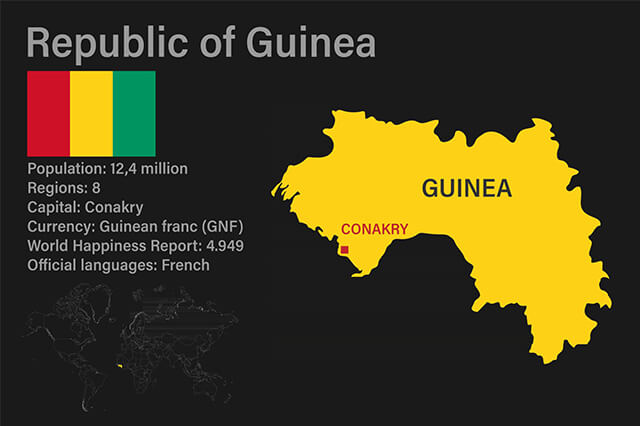 Guinea is known as a "geological miracle" and is rich in mineral resources. It is an important resource-based country in West Africa. Its mineral resources have many varieties, large reserves, wide distribution, high exploitation value and great development potential. The main minerals are bauxite, iron, gold, diamond, nickel, copper, cobalt, petroleum and so on.
Bauxite ore: Guinea, known as the "bauxite kingdom", is rich in reserves, widely distributed and easy to mine. According to the U.S. Geological Survey, Guinea has about 40 to 41 billion tons of bauxite reserves, or about two-thirds of the world's total. Its proven reserves are 29 billion tons, ranking first in the world. The world's four largest bauxite resources ranked in order: Guinea, Australia, Brazil and China.
Bauxite mine in Guinea is one of the rare rich ores in the world. It has the following characteristics: the vein is shallow, the overlying soil layer of the deposit is thin, there is basically no need to peel the non-soil ore, and most of it can be mined by open pit. The ore grade is high and the mineral storage is concentrated. Generally, a mine is about millions or even billions of tons, which is conducive to development.
Iron ore: Guinea's iron ore reserves and grades are world-class. The iron ore reserves are large, high grade and easy to mine, among which there are a considerable amount of rich iron ore with grades as high as 56-72%.
Gold ore: Guinea's gold reserves are abundant and widely distributed, with estimated reserves of about 1,000 tons. There are mineral deposits throughout Guinea, which are divided into primary deposits (dispersed veins, reticulated veins and quartz veins) and secondary deposits (alluvial deposits, flowing water alluvial plains).
In addition to the above-mentioned mineral resources, Guinea also contains a large number of other rare metals and minerals, such as uranium ore, tin ore, copper-lead-zinc ore and so on.
Mining plays an important role in Guinea's economic development. The mineral resources being mined in the country include bauxite, gold and diamonds.
It is mainly mined by foreign-funded enterprises. At present, except for the industrial scale mining of bauxite, most of the other mineral resources in Guinea are mainly mined manually. It's worth noting that Guinea is rich in iron ore, possibly the largest deposits in Africa. At present, Guinea has two untapped world-class iron ore mines: Simandou iron mine and Nimba Mountain iron mine.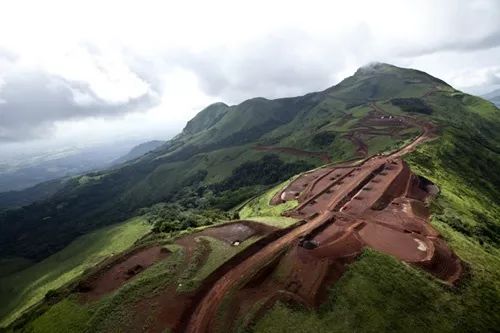 (Nimba Mountain iron mine)
The Mining Law of the Republic of Guinea, enacted in 2011 and amended in 2013, is implemented in Guinea. According to the Provisions of the Mining Law, the right to right or right to any substance in the underground and surface soil, including bauxite and iron ore, diamonds, gemstones, platinum group and precious metals, other base metals, non-metallic substances, radioactive materials, mineral water and geothermal deposits, can only be obtained at the time of mining. Investments in categories 1 and 5 must exceed $1 billion, and in other cases must exceed $500 million.
(1) Exploration license
Permit holders can obtain licences or mining concessions for surrounding minerals, but any technical partner to raise the necessary funds must obtain ministerial approval. A person has a maximum of three licences for bauxite and iron ore (up to 1,500 sq km) and five licences for other substances (up to 500 sq km for industrial and semi-industrial areas).
(2) Mining license
Grants the right to search, identify, develop, mine and freely dispose of mined minerals. The license period is 15 years, and if the holder fulfills his obligations, it can be extended for five years, and the holder must carry out development and mining work within 18 months of registration.
(3) Mining concession
Similar to the mining license, the mining concession period is 25 years, renewable for 10 years under the same conditions as the original concession and a new feasibility study report is submitted, the development and mining work must start within two years, and the investment must reach 5 hundred million U.S. dollars.
(4) Semi-industrial exploration and development license, artisanal mining license
It is only granted to Guinean nationals, Guinean-owned companies, and foreign nationals who grant reciprocal state treatment to Guinean nationals. In addition, according to the Mining Act, any mining method must consider how to offset the impact on the environment, and the holder of the mining license must contribute to the opening of an environmental restoration and trust account to ensure environmental restoration and the closure of the mine. An Environmental Impact Notice for an exploration permit must be submitted before the commencement of the works and within six months of the grant of title.
The skills of workers are low, and strikes are frequent. The quality of the labor force in Guinea is generally not high, and there is a shortage of skilled technicians. Generally, it takes a certain amount of time for professional training before starting a job.

Lack of infrastructure, large upfront investment. At present, Guinea's bauxite export mainly relies on three special railway lines connecting mining areas to seaports. There is almost no hydropower and related infrastructure necessary for mine development, and supporting power plants, roads, railways and maritime terminals need to be built. These factors require a large amount of capital investment in the early stage to ensure the normal operation of the project.

Harsh natural environment makes it difficult to operate in the field. Guinea has a relatively hot climate, which lasts for a long time in summer and is plagued by mosquitoes, which easily leads to injuries in field operations.

The degree of exploration is low and the work cycle is long. On the whole, the degree of geological work and mineral resource exploration in Guinea is relatively low, and the reserves and grades of mineral resources given have great uncertainty.

Policies are unstable and the government acts inefficiently. Although Guinea's legislation on investment and mining is relatively complete and has introduced a series of preferential policies to attract foreign investment, the Guinean government often fails to implement the promised preferential and tax-free treatment, and the answers and implementation of mining rights and other related policies are not consistent. , causing some trouble to the business operation.
According to Guinea's mineral resources and mining development situation, Guinea has the world's largest reserves of bauxite resources, world-class high-quality iron ore resources and rich gold and diamond resources. But at present the development degree is not high, there are a lot of investment opportunities.