Peru Mining Investment Guide

Shirley

Dec 18, 2020

1314
Warm Tip:
If you want to know more details about equipment, solutions, etc, please click the button below for free consultation, or leave your requirements!

Peru is one of the most extensively mineralized countries of the world. It currently plays host to some of the world's major mining companies. Before we have talked about the Zimbabwe mining investment guide. This article will introduce the mining investment environment in peru. Let's drive in it.

Peru, a country of 32.8 million people, is one of Latin America's fastest-growing economies. It has rich deposits of copper, gold, silver, lead, zinc and natural gas.
Mining is the dominant sector of the Peruvian economy. Substantial additional investment has flowed to mining sector over the past 20 years. As a result, exploration and development activities have increased. Peru is among the major producers of mineral commodities in the world. They account for nearly 60% of the country´s total exports. Gold and copper are the most important mineral exports by value.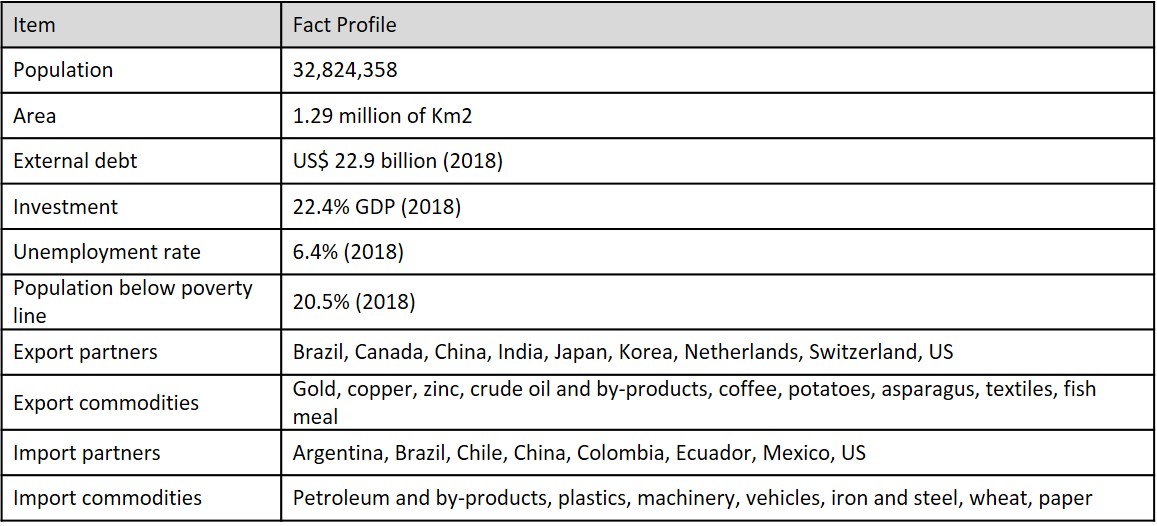 Sources: BCRP / Ministry of Economics and Finance / INEI / ECLAC
Mining has always been very important to Peru national economy. Its well-known mining tradition dates to the pre-Inca times, and goes on through the Inca, colonial and republican periods. In each of those stages, mining has been one of the major activities in the country's development. It has contributed about half of the country's export revenues traditionally.
Peru is one of the most extensively mineralized countries of the world. It currently plays host to some of the world's major mining companies, including, Glencore, Freeport-McMoRan, Rio Tinto, Anglo American, MMG, Teck, Chinalco and Barrick. Since the liberalization of the industry in the 1990s local and foreign investment has been deployed to develop major modern mines.
Currently, it is the world´s second largest producer of copper and it is also a major producer of gold, silver, zinc, among other minerals. Peru has 10.0% of the world's copper reserves, 4.8% of its gold, 19.6% of its silver, 9.1% of zinc, 7.2% of lead and 2.3% of tin reserves, according to the most recent data published by the US Geological Survey. Copper, gold, zinc and lead accounted for 53.8% of total national exports and 90.4% of the value of exported mining products.

Source: Ministry of Energy and Mines
Total mining investments in Peru (US$) is as followings.

Source: Ministry of Energy and Mines
(1) Size of Exploration Blocks / Duration of Exploration Rights
Concessions for exploration and exploitation of mineral resources are granted in areas that can go from 100 hectares to 1,000 hectares per concession, except in marine zones. In marine zones, the concession could reach an area of up to 10,000 hectares.
(2) Right to Transfer Mining Rights
Mining rights can be transferred by their private holders with no restrictions or requirements, other than to register the transaction with the Public Mining Register. The Mining Law clearly defines the rules for the transfer of a mining concession and regulates other so-called mining contracts, such as option contracts, concession assignment agreements, mortgages, joint venture agreements, etc.
(3) Government Policies on the Sale of Mineral Products
At home and abroad, the sale of mineral products is not restricted. Therefore, mining operators are not under the obligation neither to satisfy the internal market before exporting their mining products nor to sell them at "official" prices or terms.
(4) Availability of Mineral Agreements
In Peru, mining companies can sign agreements with the government to obtain a series of guarantees and benefits. These contracts, however, do not intend to supplement or stand in place of the Mining Law. In fact, they are not even referred to the terms and conditions under which a mining concession is obtained, maintained or terminated, but rather to investment promotion issues such as the possibility to obtain judicial, tax, foreign exchange and commercial stability.
The taxation system of Peru is as followings.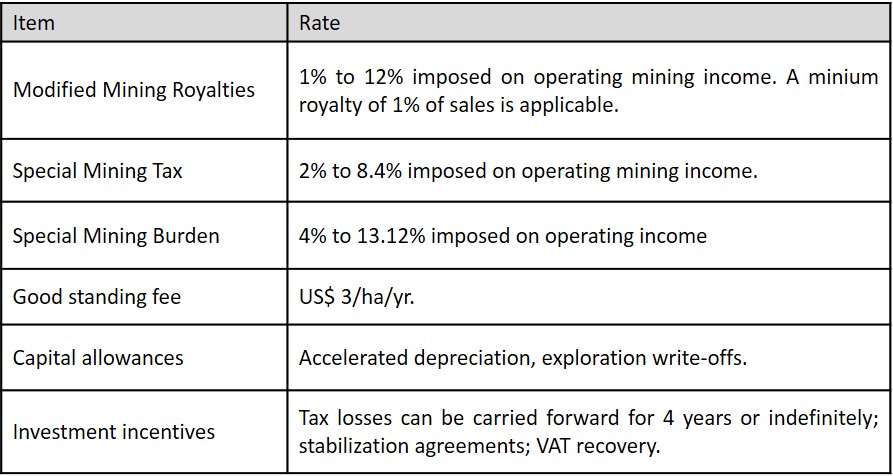 Favorable Factors
(1) Peru's mining investment policy is active and stable, and has successively formulated the "Foreign Investment Promotion Law" and the "Basic Law on Private Investment Growth" to encourage and protect foreign investment.
(2) Peruvian capital is freely remitted in and out of the country, dividends, technology transfer fees and remuneration are freely remitted out, and there are no restrictions on commercial loans.
(3) Peru has also introduced incentives for mining investment.
Adverse Factors
(1) Exchange rate. Peru implements free exchange of foreign exchange. And the fluctuation of exchange rate has a great impact on the import and export of mineral products.
(2) Existing system. Peru now has the system of "social license". If the community doesn't agree, it can't be done. The situation is particularly acute in northern Peru. One of the biggest challenges in mining in Peru is building good relationships with communities.
(3) Local security situation. Peruvian society is generally safer. But in the border jungle areas bordering Colombia, Brazil and Bolivia, the security situation is poor.
(4) Strike. Labor unions are strong in Peru, and strikes have always been a major problem faced by some mining enterprises, especially foreign-owned enterprises. So far, no effective solution has been found. All kinds of reasonable or unreasonable strikes have become the norm in Peru, and it has become increasingly difficult for government authorities to control them.