2022 Tungsten Mining Investment Guide

Shirley

Oct 31, 2022

624
Warm Tip:
If you want to know more details about equipment, solutions, etc, please click the button below for free consultation, or leave your requirements!

Tungsten is an important raw material with numerous applications in different industrial sectors such as energy, materials, information technology and consumer staples. Tungsten carbide, a dense metal-like substance, is the primary end-use material of tungsten and is widely used in automobile and aircraft production, construction, electronics manufacturing, oil and gas drilling, and defense. Recent research suggests that tungsten alloys may be the most promising plasma-facing first wall materials for future commercial nuclear fusion devices.
The average content of tungsten in the earth's crust is about 1.5 ppm, which is much rarer than most rare earth elements (REEs). Naturally occurring primary tungsten minerals can be divided into wolframite and scheelite. Wolframite and scheelite are abundant resources and are of economic importance.
Secondary tungsten minerals are generally considered to be produced by hydrothermal or superficial alteration of primary tungsten minerals rather than by atmospheric weathering. The effect of hydrothermal alteration on primary tungstate minerals such as magnesia and scheelite can generate several secondary tungsten minerals, including ferrotungstenite, bauxite, stevensite, tungstate and phyllotungsten mine.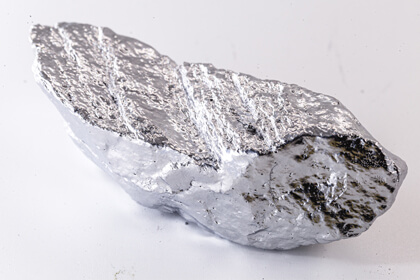 Tungsten ore is distributed on all continents of the world. The most important and abundant tungsten deposits have been discovered in the southeastern China and Southeast Asia belts. There are also important resources in the Central Andean Belt, the Eastern Australia Belt, the Mesoproterozoic Caraguay-Ancor Belt, and the European Variox Belt.
According to the "2021 Tungsten Mineral Commodity Summary" issued by the United States Geological Survey (USGS), the world's major tungsten producers are China, Vietnam, Russia, Mongolia, Bolivia, Austria and Rwanda[9]. However, a notable change in the global tungsten supply and demand market compared to a decade ago is that the United States completely stopped tungsten production in 2014 and now relies heavily on imported tungsten.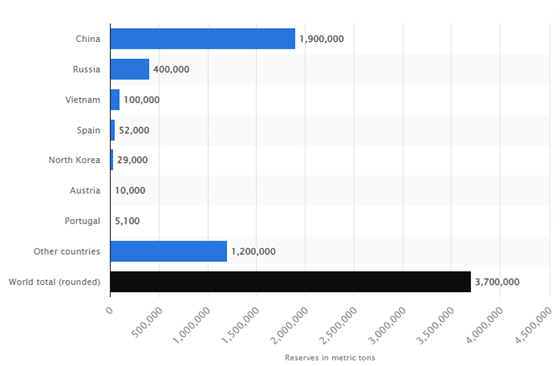 2021 Global Tungsten Reserves (Metric tons)
In 2021, China had by far the world's largest tungsten reserves, about 1.9 million tons. China was followed by Russia and Vietnam, which produced 400,000 and 100,000 metric tons, respectively.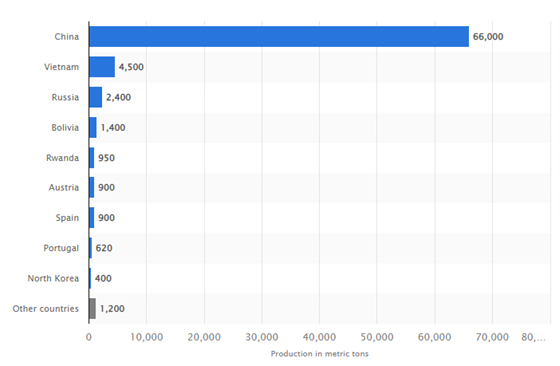 Tungsten Production by Country, 2021 (Metric tons)
In 2021, China was the world's largest producer of tungsten, with about 66,000 metric tons. Vietnam was the second-largest producer of tungsten that year, with an estimated output of 4,500 metric tons.
The metal tungsten was discovered in Sweden in the 18th century and has had countless uses in various industries since then. About two-thirds of tungsten is used to make cemented carbide, while grinding products and chemicals make up the rest. However, while the metal has many critical uses, the tungsten market has been quite volatile over the past few years. Low prices have reduced production in some parts of the world.
According to the U.S. Geological Survey, China dominates tungsten mining. Tungsten concentrate production outside Asian countries accounts for less than 20% of global production. World tungsten production reached 79,000 metric tons in 2021, almost equal to 78,400 metric tons in 2020.
There is hope for a turnaround in the tungsten market despite the Covid-19 pandemic that has stalled industrial activity and economic growth. In fact, there are already signs of rising tungsten prices in the European market. Developments in infrastructure, 5G telecom and railway construction projects are expected to boost demand for tungsten.
Tungsten is mined all over the world, and China is by far the largest producer of tungsten in the world. China produced 66,000 metric tons of the metal in 2021, far exceeding the 4,500 metric tons of Vietnam, the world's second-largest tungsten producer. In terms of reserves, China also ranks first with 1.9 million tons. Russia came in second with 400,000 metric tons.
Typically, tungsten deposits are located near orogenic belts, which are areas where tectonic plates collide to form mountains. These belts run through East Asia, the Asian part of Russia, the east coast of Australia, the Alpine Belt, and the Rocky Mountains and Andes.
One problem with tungsten supplies is that the metal can be found in war-torn countries such as the Democratic Republic of Congo. For more than a decade, the extraction of mineral resources in these areas has been linked to conflict, human rights abuses and corruption.
Therefore, tungsten is known as a conflict mineral. To stop the production of conflict minerals, some government agencies have created rules to ensure companies disclose the origin of the metals they use. The European Union is leading the way after strengthening its conflict minerals rules, while the U.S. has added tungsten to a list of 35 minerals deemed critical to U.S. security.
China is not only the world's largest tungsten producer, but also the largest tungsten consumer, which has a significant impact on tungsten prices.
As mentioned earlier, tungsten has a variety of uses relevant to the global economy. Tungsten carbide, alloys and chemicals are used in the construction, electronics, mining and automotive industries, and can also be found in petroleum operations and mineral exploration and mining.
Mill products also require tungsten. These products include tungsten rods, sheets, wires, light bulb filaments and electrical contacts. That said, the use of tungsten in bulb filaments is declining as new lighting technologies are introduced.
The chemical industry also consumes tungsten - tungsten compounds are used as lubricants, catalysts, pigments and enamels, as well as in electronic and other electrical applications.
Some investors who believe that tungsten prices will rise in the near term may take the opportunity to enter the field in today's low price environment.
However, entering the tungsten market can be a bit difficult. As with many key metals, direct access to physical tungsten is tricky because the metal is not traded on exchanges.
As a result, many market players interested in tungsten investments turn to tungsten mining companies. Most tungsten producing companies are located in China and are either privately held or only listed on Asian exchanges. However, tungsten investment options do exist elsewhere.