Tailings Dewatering System

Shirley

Jan 12, 2021

1420
Warm Tip:
If you want to know more details about equipment, solutions, etc, please click the button below for free consultation, or leave your requirements!

01

Why are Tailings Dewatered?

Back
Tailings is one of the products of separation operation in ore dressing. Because of its low content of useful components, it cannot be further separated under the current technical and economic conditions and become tailings. In addition to ore, tailings also contain a large amount of water. If it is directly discharged, it will not only cause environmental pollution, but also easily cause tailings dam break and bring safety risks. Therefore, it is very necessary to dewater the tailings before the tailings discharge.
02

What is Tailings Dewatering System?

Back
Generally, tailings dewatering system is mainly composed of slurry pump, hydrocyclone, efficient improved thickener, high-frequency and high-efficiency dewatering screen, chamber filter press and slurry conveying device.
The tailings are transported to the hydrocyclone for concentration and classification through slurry pump, and the settling sand from the hydrocyclone enters the high-frequency and high-efficiency dewatering screen for dewatering, while the overflow enters efficient improved thickener for concentration. The coarse tailings processed by high frequency and high efficiency dewatering screen are transported to the yard by belt conveyor for storage. Among them, the tailings concentrated by the efficient improved thickener are transported by the slurry pump to the chamber filter press for filtration, and the filter cake of the filter press is unloaded to the belt conveyor, and the fine tailings are transported to the yard for storage. The following figure is the tailings dewatering system flow chart.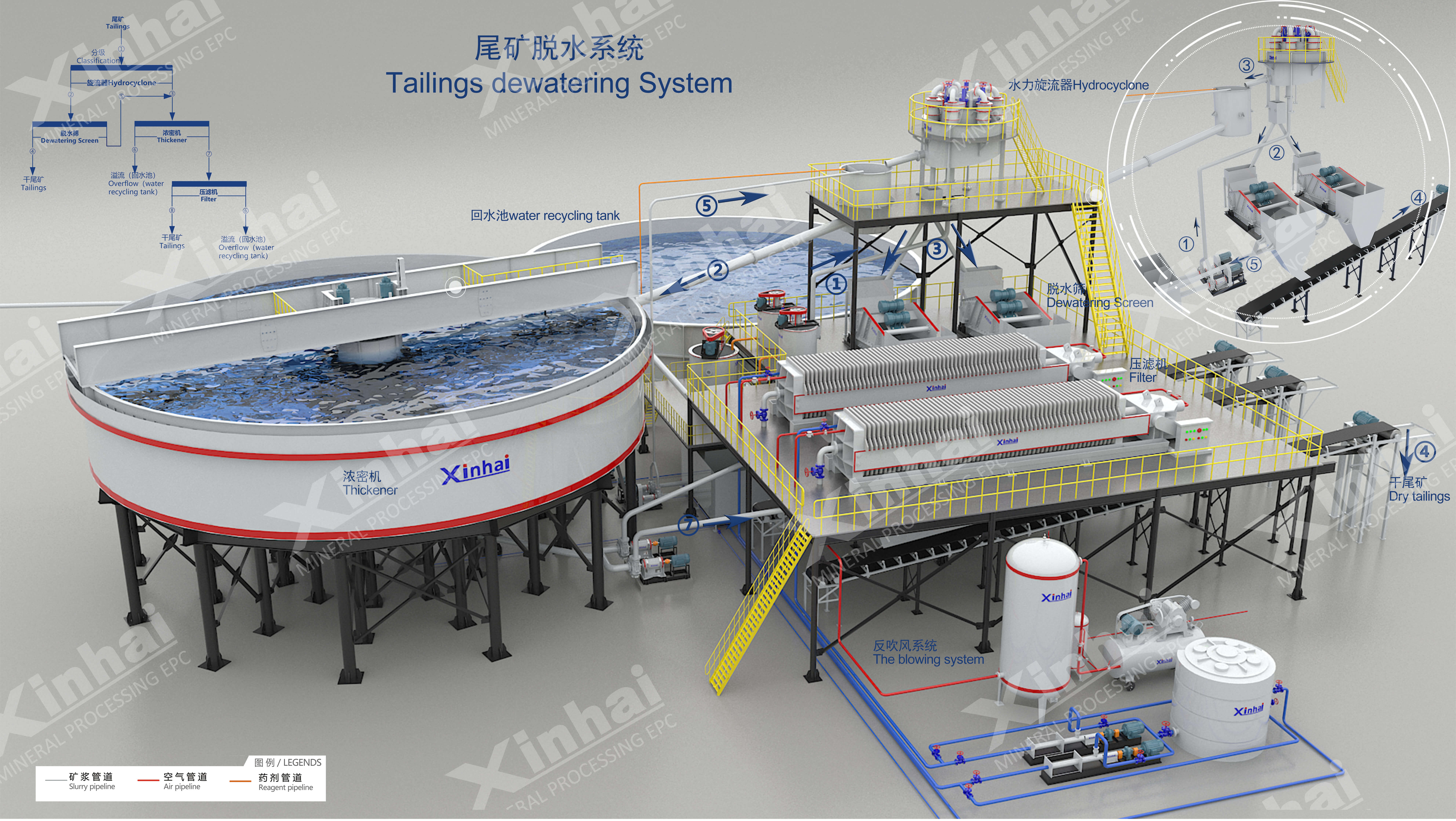 03

What are the Advantages of Tailings Dewatering System?

Back
(1) Good Tailings Dewatering Effect
The tailings dewatering system uses three patented equipment to dewater in turn: Xinhai concentrated hydrocyclone + efficient deep cone thickener + efficient multi-frequency dewatering screen, so that the final concentration can reach more than 85% and achieve dry discharge.
(2) Low Operation Cost
The equipment investment and civil construction investment of the unique equipment combination of the tailings dewatering system are small. Moreover, Xinhai's patented equipment has good dewatering effect and low energy consumption, further reducing operating costs.
(3) Long Service Life
The equipment used in the tailings dewatering system is lined with Xinhai wear-resistant rubber, and whose wear resistance index can reach 128%. The whole production line service life is twice as long as that of the ordinary equipment production line, which greatly reduces the manual maintenance and the operation cost is reduced by at least RMB 2/ton.
04

What is the Price of Tailings Dewatering System?

Back
Tailings dewatering system is composed of several equipment, its overall price is affected by the capacity, tailings water content and other factors. You can inform the website customer service of your needs, and we will customize a suitable tailings dewatering system according to your project needs.