Pakistan 1500TPD Copper Flotation Plant

XinHai

Aug 29, 2022

310
Warm Tip:
If you want to know more details about equipment, solutions, etc, please click the button below for free consultation, or leave your requirements!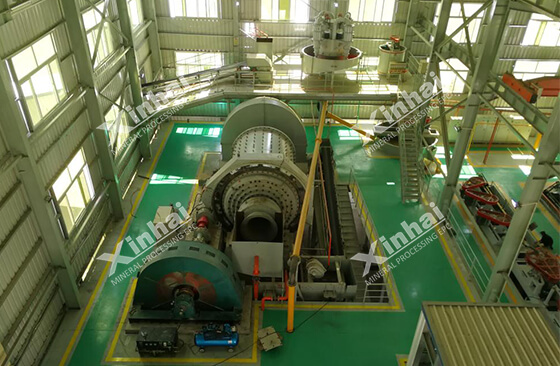 The raw ore was characterized by simple composition. It consisted of metallic minerals (copper pyrite and pyrite) and non-metallic minerals (quartz and chlorite). The multi-element analysis results showed that Cu was the valuable element. The Cu grade of the raw ore was 0.80%.
Two- and half-stage closed-circuit crushing-one-stage closed-circuit grinding-flotation process of one-stage roughing, two-stage scavenging and two-stage concentration-two-stage mechanical dewatering
Crushing and screening: Jaw crusher was adopted for coarse and half-stage crushing, cone crusher for fine crushing and heavy-duty circular vibrating screen for screening. The product size was -12mm.
Grinding and classification: Wet grid ball mill was adopted for grinding, linear vibrating screen for pre-classification and XCⅡ hydrocyclone cluster for classification. The grinding fineness was -200 mesh (68.0%).
Flotation: Lime was used as the regulator, Z200 was used as the collector. XCF/KYF flotation cells were adopted to roughing and twice scavenging, BF flotation cell was adopted to twice concentration.
Concentrate dewatering: Efficient improved thickener was used in the one-stage dewatering stage, press filter was used in the two-stage dewatering stage. Finally, the water content of filter cake contained about 20%.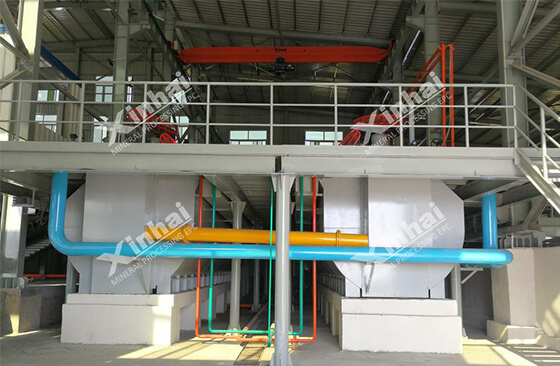 Finally, the grade of copper concentrate was 20.780%, and the recovery rate of copper was up to 90.05%.