Philippines Mining Investment Guide

Chaya

Jan 07, 2021

1566
Warm Tip:
If you want to know more details about equipment, solutions, etc, please click the button below for free consultation, or leave your requirements!

Before we have talked about Zimbabwe mining investment guide and Peru mining investment guide. This article will introduce the mining investment environment in Philippines. Let's drive in it.
Philippines, a multi-ethnic archipelago country in Southeast Asia with a land area of 299,700 square kilometers. There are more than 7,000 large and small islands, including the three main islands of Luzon, Mindanao, and Samar. The coastline is about 18,533 kilometers. As of 2020, Philippines has a population of approximately 109 million. It is the eighth most populous country in Asia and the thirteenth most populous country in the world. The topography of the Philippine Islands is dominated by mountains, accounting for more than 3/4 of the total area; there are more than 200 volcanoes, of which 21 are active volcanoes. Philippines has a monsoon tropical rain forest climate with high temperature and rainy, high humidity and many typhoons.
Philippines has a small land area, but its unique geographical environment and geological conditions make it one of the countries with rich resources in the world. As of 2017, Philippines has 4.8 million tons of nickel reserves, ranking sixth in the world; cobalt reserves of 290,000 tons, ranking fifth in the world, with production accounting for 4% of global production; copper reserves of 23 million tons and gold reserves of 2,400 tons.
Table1: The statistics of mineral ore in Philippines from 2017 to 2020.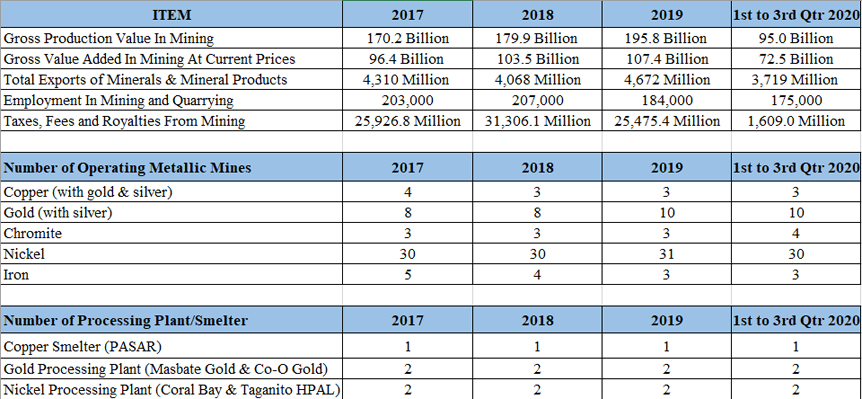 The exploration results show that most of the mineral deposits in Philippines are located in Mindanao and Luzon islands. Mindanao's gold reserves are 70% and copper reserves are 62%. Luzon's nickel reserves are 53%, and there are also large amounts of zinc and chromite. According to statistics from Philippines, Australia and New Zealand Chamber of Commerce, the value of metal deposits in Philippines has reached US$1,387 trillion. Gold, nickel and copper accounted for 75% of the total valuation, and gold accounted for 26%, higher than copper and nickel.
Table2: The reserves, taste and value of mineral ores in Philippines.

The mining industry plays a very important role in the country's economic development. First, the industry directly or indirectly provides employment opportunities for a large part of the population. Mining companies invest in road infrastructure, utilities and other facilities around the mine, and the mining projects stimulates local and regional economic development.
Table3: The reserves, taste and value of mineral ores in Philippines.

Mining also contributes to the country's foreign exchange earnings through exports. In 2017, mining exports accounted for 7% of total exports. In addition, the industry provides additional revenue to the government through taxes and fees paid for mining and other related activities. Mining activities have a significant impact on the environment. In most aspects of mining activities, from the construction of mining facilities, ore mining to mineral processing, there are always potential environmental and ecological problems.
At present, the development of mineral resources in Philippines is relatively low. According to the statistics of the Ministry of Environment and Natural Resources of Philippines, only about 2.5% of the mineral-bearing land in Philippines has obtained mining licenses. The country's mineral resources still have great development potential.
The 1995 Philippine Mining Law (Republic Act No. 7942) is the governing law for mining. According to this law, mineral resources belong to the state, and their exploration, development, utilization, processing and protection are all under the complete control and supervision of the state.
Philippine mine exploration and mining licenses mainly include: Exploration Permit (EP), Mineral Production Sharing Agreement (MPSA), Financial or Technical Assistance Agreement (FTAA), Mineral Processing Permission (MPP), Cooperative Mineral Products Sharing Agreement (CPA), Joint Venture Agreement (JVA), Quarry Permit (QP), Sand Mining Permit, Small Mine Mining Permit, and Raw Ore Transportation Permit.
The state grants mining rights in the following three ways:
1. Exploration Permit (EP) or Mineral Processing Permit (MPP) grants contractors the right to explore the designated area for two years. Metal mines can be renewed for up to eight years, and non-metallic mines can be renewed for up to six years.
2. Mineral Production Sharing Agreement (MPSA) grants contractors the right to conduct mining operations within the contract area and share the total production. MPSA can be used for 25 years and can be used for another 25 years.
3. Financial or Technical Assistance Agreement (FTAA) involves the financial and technical assistance for the large-scale exploration, development and utilization of mineral resources. This contract is open to Filipinos and foreign companies with up to 100% foreign equity. It is valid for 25 years and renewable for 25 years.
Philippines has fewer restrictions on market access, and foreign investment and foreign trade are divided into priority, restricted and prohibited areas. Philippines encourages foreign investment, but its legal and policy restrictions on foreign investment are stricter. The tax approval process is cumbersome and the audit time is long; the environmental protection policy is strict and the water pollution punishment is relatively strong. Therefore, the overall scale of attracting foreign investment is not large.
In order to improve the mining investment environment, in January 2003, President Arroyo proposed to reform the government's mining development strategy, transforming the past free development of mining into an active promotion by the government. The Ministry of Environment and Natural Resources of Philippines has formulated a mining recovery plan including policy reforms aimed at encouraging mining investment and increasing employment opportunities, and has made the recovery of mining a priority work of the Ministry of Environment and Natural Resources.
In order to further promote the increase of mining investment, the Ministry of Environment and Natural Resources and the Ministry of Trade and Industry of Philippines jointly established the Mining Investment Assistance Center (MIAC), and assigned MIAC the following responsibilities:
1. Providing investors with the technical, geological, legal and investment situation of potential mining investment opportunities;
2. Providing investors with documents and forms for applying for various mining licenses, contracts and agreements;
3. Providing guidance in law and procedure for doing business in Philippines, and provide assistance in obtaining important information;
4. Providing relevant technical and legal consultation and recommendations according to different requirements in application, processing, evaluation and mining rights approval;
5. Providing environmental and social acceptability consultation services for mining projects;
6. Providing consultation on mining site selection.
(1) Favorable Factors:
Fast-growing economy. As of 2019, Philippines' GDP growth rate has exceeded 6% for seven consecutive years, and the per capita income has reached more than $3800, reaching the standard of an upper-middle income economy.
Rich labor resources. Philippines has a large population, a high education penetration rate with a literacy rate of 94.6%, and 80% of Filipino are proficient in English. The labor cost is low and it ranks among the best in Asia.
Rich mineral resources. Philippines is located in the Pacific Rim Volcanic Seismic Belt, with good mineralization geological conditions and rich mineral resources. The reserves of nickel, gold, copper, and chromite per unit area are among the best in the world.
(2) Unfavorable Factors:
Natural risk. Philippines is a country that has been hit by earthquakes, typhoons, and volcanic eruptions. According to statistics, Philippines is hit by dozens of typhoons every year, causing heavy casualties and property losses every year.
Poor infrastructure. The infrastructure in Philippines needs to be improved. In particular, the lack of electricity supply, the high cost of electricity, and the high cost of building factories are the main concerns of foreign investors.
Slow legal reform. The reforms urgently needed for economic development are often debated in Congress; Public-Private Partnership (PPP) projects aimed at attracting private funds are progressing slowly.
Unstable social security. Due to the perennial political instability and policy changes in Philippines; government debt is high and construction funds is short; officials are corrupted and laws and regulations are in vain; social security is chaotic, and kidnappings and extortion incidents are frequent. The turbulent social environment and poor investment environment have discouraged foreign investors from Philippines, thus affecting the entry of foreign capital into the mining industry in Philippines and slowing down the development of the mining industry.
In general, the advantages and disadvantages of Philippine mining investment coexist. In the ranking of the world's best investment or business countries released by CEOWORLD magazine in 2020, of which Philippines ranked 43rd. In the past two years, the investment environment in Philippines is indeed superior. With the rapid development of infrastructure and the continuous economic development, there are boundless business opportunities and huge investment potential!